Wassail
I make this every year and everyone loves it. There may have been a bit too much Brandy in it a couple years back, my Aunt's first sip came straight out of her nose. LOL! Anyways, I'm looking forward to making it again this year, it makes the house smell yummy. If you get a chance to make it, let me know how it turns out.
Happy Yule!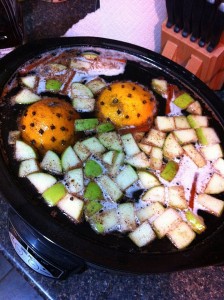 Dead Soldiers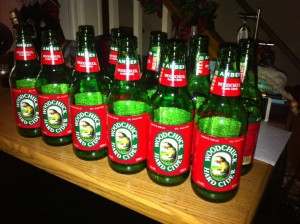 Cook Time: 2-4 hours
Ingredients:
Approxamitely 12 bottles of Woodchuck Hard Cider (1 gallon)
2 C. cranberry juice
1/2 C honey
1/2 C sugar
2 oranges
Whole cloves
1 apple, peeled and diced
Allspice
Ginger
Nutmeg
3 cinnamon sticks (or 3 Tbs. ground cinnamon)
1/2 C – 1 C brandy (optional)
Preparation:
Set your crockpot to low, pour in apple cider, cranberry juice, honey and sugar, mix carefully. While it heats up, stir so the honey and sugar dissolve. Stud the oranges with the cloves, and place in the pot. Add the diced apple, allspice, ginger and nutmeg to taste — a couple of tablespoons of each is plenty. Snap the cinnamon sticks in half and add.
Cover and simmer 2 – 4 hours on low heat. About half an hour prior to serving, add the brandy, if desired.
Tip: For people with cinnamon allergies, add an extra 1 1/2 tbsp of both allspice and nutmeg! (Thanks to Natalie Pagan!)
Enjoy! Have a great weekend!
Lisa