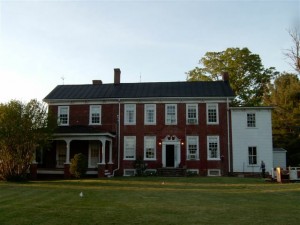 Ivy Cliff began as a modest two story home built in the 1790′s by Henry Brown In Bedford County VA near the town of New London. There were at least four additions through the 1860′s. Henry became very wealthy through business and land ownership and eventually owned approximately 3400 acres including Ivy Cliff. He served in the militia during the revolutionary war, was wounded at the battle of Guilford Courthouse, N.C., and eventually made captain many years after the war. Henry served as President of the Board of Trustees of New London Academy, Sheriff of Bedford County, and county tax collector. He even collected taxes from his neighbor, Thomas Jefferson.
Henry Brown's descendants were activly involved in politics throughout the 1800′s and his grandson, Colo. John Thompson Brown died at the Battle of the Wilderness in 1864. JTB's Frock coat he died in has survived all these years and was sold at auction in 2007 for over $100,000! Brown descendants lived at Ivy Cliff until 1923 when the house was sold at auction to the Miles family who lived here until 2005.
Today, Ivy Cliff is comprised of 17 acres, original chicken and carrier pigeon coup, corn crib, servants cabin, water well, early 20th century cow barn, tobacco barn, and chick brooding pen. Since Jefferson was a neighbor, It is the belief of some architectural historians that the triple hung windows were designed by Thomas Jefferson.
Thanks for stopping by, have a wonderful weekend!
Lisa