Headlines: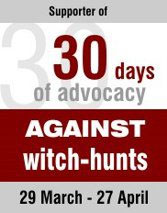 Witchcraft accusations and human rights abuses in Africa
Witch‐hunts have become epidemic throughout Africa. Although witch‐hunts have historically been viewed as gender specific, with a large percentage of victims still identified as elderly and solitary women, recent reports show that victims of witch‐hunts include both women and men of all ages. read full story from paganrightsalliance.org3
Events:
"GhostFest: Paranormal & Horror Convention" – The heads in charge couldn't have picked a better place than Salem for this weekend's GhostFest: Paranormal & Horror Convention, which kicks off tonight.
Archeology:
Archaeological research visualizes urban life in ancient cities
A new archaeological research project at the University of Kent, south England, will reconstruct urban life in cities such as Constantinople during a period of history that has long remained hidden from view.
Reconstructions of daily life in ancient Roman cities such as Pompeii are plentiful, thanks to centuries of archaeological research. But that is not the case for the later Roman or 'late antique' period (AD 300-650) that saw the long transition from the Roman Empire to the Middle Ages.
This is set to change now – thanks to a three-year project called 'Visualising the Late Antique City' – that will see the University's Dr Luke Lavan, a lecturer in archaeology, leading a team studying artwork, excavated artefacts and the ruins of ancient cities from around the Mediterranean.  Although Constantinople is now obscured by modern development within what is now Istanbul, other sites in Turkey, Tunisia, and Italy are expected to reveal much of the urban landscape of the period. Read full story from pashorizons.com
Arts & Entertainment:
4 Reasons Why David Gordon Green's Suspiria Remake Could Be Great
In between fielding questions about Natalie Portman's thong bikini in Your Highness, director David Gordon Green confirmed that he hopes to remake Dario Argento's horror classic Suspiria next. As someone who really likes horror movies, I'm usually somewhere between disheartened and furious each time Hollywood announces a remake of another one of my favorite 70's films. But a remake of Suspiria actually has real potential. Read full story from movieline.com
'Ghost Adventures' crew to probe `Idol` mansion
Washington: The 'Ghost Adventures' crew believes there may be demonic activity inside the haunted 'American Idol' mansion and they want to investigate the place as soon as possible.
Zak Bagans, the lead investigator of the 'Ghost Adventures Crew', insisted the alleged paranormal activity inside the Beverly Hills mansion where the 'A.I.' finalists were staying sounds legit and "possibly demonic." Read full story from zeenews.com
DVD Review: Devil's Playground
Devil's Playground is one of the best examples of a schizophrenic horror film I've seen lately – and I don't mean this in a good way. It hovers between horror, action and movie of the week melodrama, switching in tone so fast that you'll probably give yourself whiplash as you struggle to make it through the full 90 minutes. Read full story from brutalashell.com
Lifestyle & Religion:
How Can A Bunny Lay Eggs?
While the Easter bunny may play second fiddle to Santa Claus in the pantheon of holiday myths, the wiggly-nosed critter actually has deeper historic roots than ol' St. Nick.
The Easter bunny's origins predate Christianity, whereas Santa Claus came to popular attention in the 4th century. Like the Easter eggs it is said to circulate, the Easter Bunny is an icon of fertility. The arrival of spring on one hand is a symbol of renewed life for people, but it also is the mating season for rabbits and hares, and it's the time when birds lay eggs. If you put that together with the death and resurrection of Jesus Christ, you wind up mixing Easter with the Easter bunny. Read full story from krdo.com
Cambodia: where fear, magic and murder intertwine
BOMNOK, Cambodia — In the midday swelter of early hot season, Pah Eang shivered and walked into a mountainous forest she'd once visited every day. She said she was scared. She hadn't been to this place, open and silent, in five months. Not since the killings and whispers of magic.
Pulling at her red sweatshirt, Pah dissolved into the Cardamom Mountains that ripple through western Cambodia, and began her search for a place that keeps this 22-year-old awake at night and plagues what's left of her family. Her path wound deeper until everything was quiet and the only mark of humanity was a bamboo-thatched hut in a clearing so idyllic the savagery of what had occurred there was difficult to imagine.
Last September, Pah's father and younger brother were killed around 1 a.m. in this hut. The father, Pheng Pah, 46, was stabbed to death while his son, Pah Broh, 15, had his throat slit. When the bodies were discovered the next morning, some villagers in this deeply rural community 25 miles from a paved road rejoiced. They said the father and son were "sorcerers" and had deserved to die. Read full story from globalpost.com
The Episcopal Church:The Way of Balaam
Manchester Cathedral to host tarot card readers and healers at 'new age' festival screamed a headline in a British broadsheet. The cathedral will also feature crystal healers and 'dream interpretation'.
Fortune tellers, meditation experts and traditional healers will fill the pews during the day-long festival in May. The Bishop of Manchester, Rt. Rev Nigel McCulloch, said he wanted to celebrate 'all forms of spirituality'. Bishop Nigel said the unconventional activities are not incompatible with Christian belief. Read full story from virtueonline.com
Gingrich fears 'atheist country … dominated by radical Islamists'
Hours after declaring Sunday that he expects to be running for president within a month, former House Speaker Newt Gingrich said he's worried the United States could be "a secular atheist country, potentially one dominated by radical Islamists," in the foreseeable future, according to Politico. Read full story from cnn.com
News:
BP managers could face manslaughter charges over Gulf oil spill
The US authorities are considering charging BP managers with manslaughter after decisions they made before the Deepwater Horizon oil well explosion last year killed 11 workers and caused the biggest offshore spill in US history.
Sources close to the process told Bloomberg that investigators were also examining whether BP's executives, including former chief executive Tony Hayward, made statements that were at odds with what they knew during congressional hearings last year. Read full story from guardian.co.uk
Paranormal:
County's Paranormal Society explores haunted hotel
Could Sonoma State be haunted? You should ask our own team of ghost adventurers, the Sonoma County Paranormal Society (SCPS) headed by Lead Investigator, Sonoma State sophomore and Environmental Studies and Planning major Joshua Goudy and friends. The SCPS spend their free time studying locations rumored to be haunted for proof of life after death.
Goudy and his crew will be visiting the Holbrooke Hotel in Grass Valley, Calif. on Tues, April 12., a location famous for multiple instances of paranormal encounters.
The SCPS is made of a core group of five students of both Sonoma State and the Santa Rosa Junior College with a common interest and the desire to share experiences in their studies of paranormal activity. Read full story from sonomastatestar.com
Science:
Lost in Triangulation: Leonardo da Vinci's Mathematical Slip-Up
Artist, inventor and philosopher Leonardo da Vinci (1452–1519) was without a doubt a genius. Yet, there is some criticism. In his book 1434: The Year a Magnificent Chinese Fleet Sailed to Italy and Ignited the Renaissance (William Morrow, 2008) British author and retired submarine commander Gavin Menzies claims that da Vinci swiped most of his ideas from the Chinese. Menzies's theory was poorly received by the world of science. Besides, isn't da Vinci's brilliance beyond question? Definitely, but the Dutch mathematician and artist Rinus Roelofs did find an error in one of the Renaissance man's drawings. Read full story from scientificamerican.com
Media:
FLDS Church elder moves to replace Warren Jeffs (Source: Youtube – ksltube)
Blogspot:
Thanks for stopping by! Well wishes to you all and have a great day!
Lisa