Apple Harvest Bread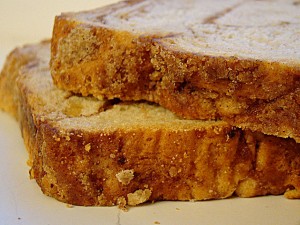 Ingredients:
2 cups Flour
1/2 cup Packed light brown sugar
1 tsp Baking soda
1/2 tsp Baking powder
1 tsp Ground nutmeg
1 tsp Ground cinnamon
1/2 tsp Ground cloves
1 1/2 cups Sugar
3/4 cup Butter softened
2 Eggs
1 pound Pumpkin, cooked and mashed or 15 oz can
1 tsp Vanilla extract
3-4 apples, peeled and diced
1/2 cup Raisins
1/2 cup Walnuts
Preparation:
Preheat oven to 350, grease 1 small loaf pan.
Combine flour, brown sugar, salt, baking soda, baking powder and spices in a bowl.
In another bowl, sugar and butter. Beat in eggs, pumpkin and vanilla. Add the flour mixture, stirring until just moistened. Stir in apples, raisins and walnuts. Spoon the batter into pans.
Bake the loaves for 45-50 minutes, or until a toothpick comes out clean.
Place all the topping ingredients in a small bowl and stir to blend.
When the bread comes out of the oven, sprinkle with the topping.
Let sit for 15 minutes, remove from the pans and let cool on a wire rack.
Can also do in muffin tins. Bake for 20-25 minutes.
Thanks for stopping by!
Lisa