Wednesday, June 22, 2016: The moon phase is Waning Gibbous in the zodiac sign Capricorn until entering Aquarius at 4:08 PM EST.
.
Element: Air
Color: Topaz
Incense: Bay Laurel (see below for magical uses)
Garden Activities:
Plow, Cultivate, and weed.
Plant onions, potatoes, rhubarb, grapes, winter wheat, and berries.
Herbal Magic – Bay Laurel
(Laurus nobilis) G
Folk Names: Baie, Bay Tree, Daphne, Grecian Laurel, Sweet Bay, Laurel, Laurier d'Apollon, Laurier Sauce Lorbeer, Noble Laurel, Roman Laurel
Deities: Aesculapius, Apollo, Ceres, Faunus, Eros
Planet: Sun (Healing, Legal Matters, Protection)
Element: Fire (Courage, Exorcism, Health, Lust, Strength, Protection)
Gender: Masculine
Powers: Healing, Protection, Psychic Powers, Purification, Strength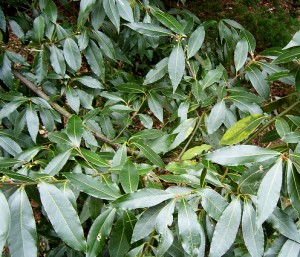 Lore: Hermes invented fire by striking a pomegranate against a bay laurel. It is also sacred to Apollo and Zeus.
Magical and Ritual Uses:
For Psychic Powers: Burn with Frankincense on charcoal. It can also be placed beneath your pillow for prophetic dreams.
For Protection: Carry a Bay leaf in a mojo bag to ward off evil, negativity, and unwanted people. Place around windows and in the attic to prevent lightening. A potted bay is also used to protect against storms and invoking the protection of Apollo. Wearing a wreath of bay is used to conquer one's fear of thunderstorms.
To Remove a Curse or Evil Spirits: Mix with Sandalwood and burn over charcoal.
To Attract Love or Romance: Use in a fire sacrifice to the gods. The oil can also be extracted and used to dress a candle which is then burned.
For Victory: Take three fresh Bay leaves and write the names of Archangels Michael, Gabriel, and Raphael on each leaf, then wrap the leaves in white cloth and carry them.
News:
Dabble In Magic Using This Handbook Of Witchcraft
There was a time when choosing to invoke an incantation as a means to an end would get one burnt at the stake. In today's world, taboos seem to be falling like leaves in autumn. So one need not be fearful any longer when choosing to resort to witchcraft in a time of need.
If the thought of dabbling in witchcraft has piqued your curiosity, you are in luck. There is a new handbook you should find very useful. It is titled Witchcraft: A Handbook of Magic, Spells and Potions. This beautifully bound book includes wonderful illustrations. Read full story – huffingtonpost.com
Thanks for stopping by,
Lisa
References:
Llewellyn's Magical Almanac
Llewellyn's 2016 Moon Sign Book: Conseious Living by the cycles of the moon
Catherine Yronwode: Hoodoo Herb and Root Magic
Paul Beyerl: A Compendium of Herbal Magick
Scott Cunningham: Cunningham's Encyclopedia of magical herbs