Macaroni & Cheese Casserole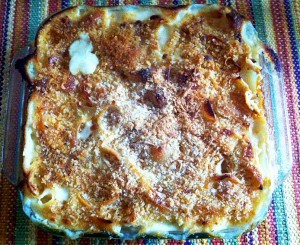 Ingredients:
1 pkg. or 1 box of shells
8 tbsp. butter
8 tbsp. flour
5 c. milk
4 cups (16 ounces) shredded cheddar cheese
1/2 tsp. garlic salt
2 tsp. prepared mustard
2 tsp. salt
1/2 tsp. pepper
Bread crumbs for topping
Preheat the oven to 350 degrees F.
Cook the pasta according to the package directions. Drain and set aside.
In a large saucepan over medium heat, melt the butter. Whisk in the flour, then add the garlic salt, salt and pepper. Gradually whisk in the milk. Cook, stirring constantly, until the sauce thickens and the mixture begins to boil. Add the cheese and stir until the cheese is melted. Add the cooked pasta and stir to coat the pasta.
Pour the mixture into a 9×13-inch baking dish.
Bake for 25 minutes, then Sprinkle with bread crumbs. Cook an additional 20 minutes or until golden and bubbly. Let stand 10 minutes and serve.
Enjoy! Have a great weekend!
Lisa