Gratin Dauphinois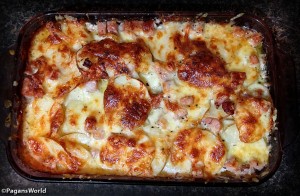 Gratin Dauphinois should be crispy on both the top and bottom. It should have a rich, cheesy taste. Look closely once you take it out of the oven, you will notice the cream has turned into a curdled, cheese-like substance. Don't be alarmed, this is what makes gratin most desirable. As the potatoes absorb water, you get a concentration of fat and protein, exactly like fresh cheese curds.
Ingredients:
2 pounds starchy potatoes
1/2 clove unpeeled garlic
4 tablespoons butter
1 teaspoon salt
1/8 teaspoon pepper
1 cup (4 ounces) grated Swiss cheese
1 cup boiling milk or cream
2 cups 1/4 inch sliced fully cooked ham (optional)
Preparation:
Preheat oven to 425F. Peel the potatoes and slice them 1/8 inch thick. Place in cold water. Drain when ready to use.
If you choose to use ham: Dice and heat in a skillet for 2-3 minutes, season with salt, pepper and garlic. Set aside until ready to use.
Rub baking dish with cut garlic, then with 1 tablespoon of butter.
Drain the potatoes and dry in a towel. Spread half of them in the bottom of the dish. Top with half the salt, pepper, cheese, and butter. (ham, if desired)
Place the remaining potatoes over the first layer and season. Spread on the rest of the cheese (ham) and divide the butter over it.  Pour on the boiling milk.
Set the baking dish on upper rack of preheated oven. Bake for 20-30 minutes, or until the potatoes are tender, the milk is absorbed, and the top is a golden brown.
Thanks for stopping by!
Lisa