Headlines: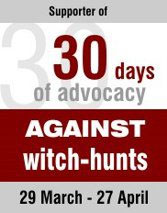 Witchcraft accusations and human rights abuses in Africa
Witch‐hunts have become epidemic throughout Africa. Although witch‐hunts have historically been viewed as gender specific, with a large percentage of victims still identified as elderly and solitary women, recent reports show that victims of witch‐hunts include both women and men of all ages. read full story from paganrightsalliance.org3
Whistle-blowing witch grounded by TSA (Source msnbc)
Here's a situation for all you aspiring managers: If you were the boss at a U.S. government agency and one of your employees complained that she was afraid of a co-worker's religious practices, what would you do?
Would it change your decision if the religion were Wicca, and the employee feared her co-worker because she thought she might cast a spell on her? Read full story from msnbc.msn.com
Visit msnbc.com for breaking news, world news, and news about the economy
Arts & Entertainment:
Exploring power held by goddesses (Book Review)
GODDESSES FOR EVERY DAY: EXPLORING THE WISDOM AND POWER OF THE DIVINE FEMININE AROUND THE WORLD – BY JULIE LOAR
Her intention is clear: to provide goddess stories drawn from ancient myths that can empower women to find from within the courage, power, strength, love and wisdom they need to live their lives to the fullest — to "save the world one woman at a time." Read full story from mysanantonio.com
Rob Zombie Gives a Peek at The Lords of Salem film
And so it begins. Here are a few shots from my recent scouting in Salem. Great town, great locations. Stay tuned to this blog for all upcoming LORDS updates. Much more to come since we are now moving full steam ahead. See photos at rzfilms.blogspot.com
Astronomy:
Coldest Star Found—No Hotter Than Fresh Coffee
Dubbed CFBDSIR 1458 10b, the star is what's called a brown dwarf. These oddball objects are often called failed stars, because they have starlike heat and chemical properties but don't have enough mass for the crush of gravity to ignite nuclear fusion at their cores.
With surface temperatures hovering around 206 degrees F (97 degrees C), the newfound star is the coldest brown dwarf seen to date. (Related: "Dimmest Stars in Universe Spotted?")
"Over the years there has been steady but slow progress in pushing the boundaries of finding the coldest stars," said study leader Michael Liu, an astronomer at the University of Hawaii.
"But with this latest discovery we have made a big leap forward—besting the previous record holder by at least 150 Kelvin [270 degrees F, or 150 degrees C]," he said. Read full story from nationalgeographic.com
Environment:
First Practical "Artificial Leaf" Powers Fuel Cells for Rural Homes
Scientists have long been trying to mimic the photosynthesis perfected by leaves — turning sunlight and water into energy that can be stored. While many have made attempts, there seems to be one group of scientists that have pulled it off. The news comes from the 241st National Meeting of the American Chemical Society, where the researchers made their announcement. The "artificial leaf" would be used to generate power for off grid homes in developing areas, and the hope is that one such "leaf" could provide enough energy for an entire household. Read full story from treehugger.com
Lifestyle & Religion:
Mass graves replace elaborate funerals in northern Japan
Kamaishi, Japan (CNN) — Ikuo Fujiwara stops in front of the wreckage of the Buddhist temple, brings his hands together and prays.
The monk bursts into tears, an involuntary act, as he asks heaven what he can do to comfort his destroyed hometown and begin to rebuild his house of worship.
Fujiwara needs heaven to speak to him, for he must preside over Kamaishi's first mass burials in memory. Behind his temple, the sound of heavy machinery digging giant ditches for unmarked coffins echoes through the shattered remains of the 300-year-old building. Read full story from cnn.com
Herbalists Form National Network
Kigali — Practitioners of traditional medicine from across the country, yesterday, met in Kigali to establish a forum that will protect their rights and regulate the profession.
Herbalists currently operate without clear guidelines, although the Ministry of Health, says that it has prepared a document that spells out the ethics for the practice of traditional medicine, guidelines for quality assurance and assessment, good agriculture practice and guidelines for research. Read full story from allafrica.com
Too Many Psychics in 'Witch City'?
Salem, Massachusetts is famous for its modern witches and history of witch persecution. The city's unique past supports a thriving menagerie of businesses selling everything from magical charms to fortunes, but some fear the number of psychics flocking to the community north of Boston could be too many.
In 2007, the city lifted a cap on the number of psychics allowed to operate and now some believe the 'Witch City' is getting overrun.
Barbara Szafranski is a long-time psychic license holder who conducts readings at her downtown shop Angelica of the Angels. She needed no crystal ball to tell her business would take a hit when more fortunetellers hit the scene. Read full story from foxnews.com
Christians and the pagans
In her letter Dr Emma Chung, President of Leicester Secular Society, stated that Christians had "purloined" Christmas and Easter from pagans (Mailbox, March 16). This is wrong.
In the time of Rome's dominance (a pagan society), Christians were in the minority.
It was emperor Lucinius, a pagan, who "ordered" Christians to treat Sunday as a day of rest, as it suited Rome. Later, Emperor Constantine "ordered" Christians to celebrate the birth of Jesus on the same day, December 25, pagans celebrate the re-birth of the sun following winter (the Feast of Natalis Solis Invicti), as it suited Rome. Read full story from thisislleicestershire.co.uk
A deity diverse and divisive
In the wide, red land led by an atheist and where evolution has prevailed in its political war with creationism, God has not died. But Australia's almighty has become a far more diverse and divisive deity, still influencing laws and values and maintaining the potential to undermine social cohesion.
The complexity of beliefs haunts policies and legislators. Christians fear suffocation by political correctness and attack from opposing fundamentalism; Muslims, Hindus and Buddhists complain of bias; pagans rail against marriage laws and the ban on pagan chaplains in the military.
Indigenous Australians say their spirituality has been bundled with paganism and dismissed as a valid belief system, further undermining their ability to manage their affairs, and damaging the fragile process of reconciliation. Read full story from nzherald.co.nz
News:
Radiation levels at Japan nuclear plant reach new highs
TOKYO — As radiation levels at the Fukushima Daiichi nuclear plant reached a new high Sunday, workers contended with dark, steamy conditions in their efforts to repair the facility's cooling system and stave off a full-blown nuclear meltdown. Wearing respirators, face masks and bulky suits, they fought to reconnect cables and restore power to motor pumps the size of automobiles. Read full story from washingtonpost.com
Vietnam Zoo Owner Gets Jail Time For Selling Dead Tigers
A zoo keeper in Vietnam was charged with the illegal selling of five endangered tiger carcasses and was sentenced to 3 years in jail. The owner had raised the tigers on his farm near Ho Chi Minh City, but after they died (reportedly from bird flu and choking on a bone), he attempted to sell the carcasses — a product that can earn big money on the black market. Read full story from treehugger.com
Radiation From Japan Plant Seeping Into Pacific
Radiation from a crippled atomic plant northeast of Tokyo has wafted into the air, contaminating farm produce and drinking water as well as seeping into the Pacific Ocean, although officials stress there is no imminent health threat.
Highly radioactive water has been found seeping from reactor two's turbine building, the operator said Monday, worsening fears that it is leaking into the environment.
Engineers are racing to restore cooling systems knocked out by the tsunami, but have been hindered by pools of highly radioactive water thought to have leaked from the steel-and-concrete reactor casings or their pipe systems. Read full story from discovery.com
Paranormal:
Who you gonna call? Family send in paranormal experts after 'capturing ghost' in home video
A spooked family have called in a real-life 'ghostbuster' – after claiming to have captured on video a poltergeist moving a chair across a bedroom.
Lisa Manning and her children Ellie, 11, and Jaydon, six, have fled their house in terror several times because of bizarre goings-on.
They include pots and pans being thrown around the kitchen, window blinds moving up and down by themselves, lights being switched on and off and drawers being opened. Read full story from dailymail.co.uk
Media:
Exclusive: Neil Gaiman confirms 'American Gods' film (Source Digital Spy)
Syfy 'Destination Truth' Sandstorm spirits (Source Syfy)
Blogspot:
Feel free to leave comments regarding the articles posted.
If you're interested in guest blogging or would like to submit an article or event, contact me at pagansworld.org@gmail.com.
Thanks for stopping by! Well wishes to you all and have a great week!
Lisa