Thai Chicken with Basil Stir Fry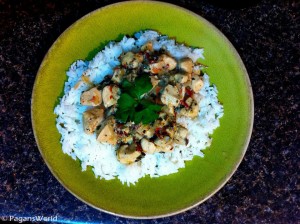 Prep Time: 15 Minutes
Cook Time: 20 Minutes
Ready In: 35 Minutes
Ingredients:
2 cups uncooked jasmine rice
1 quart water
3/4 cup coconut milk
3 tablespoons soy sauce
3 tablespoons rice wine vinegar
1 1/2 tablespoons fish sauce
3/4 teaspoon red pepper flakes
4-5 chili peppers
1 tablespoon olive oil
1 medium onion, sliced
2 tablespoons fresh ginger root, minced (I use Galangal, If you can find it)
3 cloves garlic, minced
2 pounds skinless, boneless chicken breast halves – cut into 1/2 inch strips
3 shiitake mushrooms, sliced
5 green onions, chopped
1 1/2 cups chopped fresh basil leaves
Preparation:
Bring rice and water to a boil in a pot. Cover, reduce heat to low, and simmer 20 minutes. (This rice tends to cook very fast)
In a bowl, mix the coconut milk, soy sauce, rice wine vinegar, fish sauce, and red pepper flakes.
In a skillet or wok, heat the oil over medium-high heat. Stir in the onion, ginger, (galangal), chili peppers and garlic, and cook until lightly browned. Mix in chicken strips, and cook about 3 minutes, until browned. Stir in the coconut milk sauce. Continue cooking until sauce is reduced be about 1/3. Mix in mushrooms, green onions, and basil, and cook until heated through. Serve over the cooked rice.
Enjoy! Have a great weekend!
Lisa