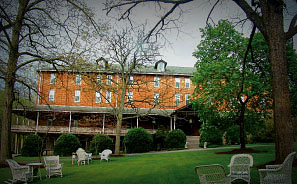 Historic Jordan Springs has been documented as far back as 1549, when the Catawba Native Americans discovered the sulfur springs. They believed it had healing powers, for almost two centuries the Native Americans visited annually for ceremonial rituals.
Since then; three hotels have stood on the property, as well as a hospital during the civil war, a brothel, a school, a rehab for children, a monastery and a resort for the Washington Elite.
Since 2008, Jordan Spring's chief investigator and Director of Paranormal investigations, John Rossi, has done extensive research of the building and the Devil's Backbone (where the cold water sulfur springs are located). He leads overnight investigations, as well as paranormal tours of the property.
One ghost that can be found in the building is a little girl who likes to play games. She can be seen in the main attic, where she loves to play hide and seek. There is an EVP recording where John asks her if she wants to play hide and seek. You can clearly hear her saying, "Seeeeek!" In the grotto, which is part of the Devil's Backbone, EVPs have been captured in Native American language. John feels this area is very unsettled due to the fact that it was a spiritual site used by both Native Americans and later Catholics when it was a monastery, there may be a bit of spiritual disharmony.
Thanks for stopping by!
Lisa
Tags: Ghost Hunting, Historic Jordan Springs, Paranormal Investigation