Strawberry Shortcake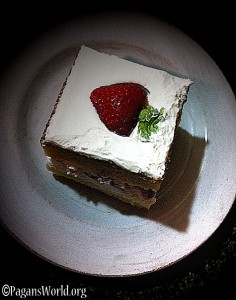 Ingredients:
Non-stick vegetable spray
1 1/2 cups cake flour
1 1/2 teaspoons baking powder
1/2 teaspoon salt
3/4 cup milk
3 tablespoons unsalted butter
1 tablespoon vanilla extract
1 teaspoon lemon extract
3 large eggs
1 1/4 cups sugar
2 pints fresh strawberries
1 recipe whipped cream frosting
Whipped Cream Frosting:
1 teaspoon gelatin
2 cups heavy cream
1/2 cup confectioners' sugar
2 teaspoons vanilla extract
Directions:
Preheat oven to 350, place rack in the middle of the oven. Lightly coat 2 (9-inch) cake pans with nonstick vegetable spray. Line the bottoms with a circle of baking parchment.
In a large bowl,  sift the flour,  baking powder and salt together, 3 times. Bring the milk and butter to a boil (in a small saucepan. Remove from the heat and add vanilla and lemon extracts.
In separate mixing bowl, beat the eggs and sugar until pale yellow, fluffy and doubled in volume. While still beating, drizzle in the hot milk mixture.
Fold in the flour mixture. Spread the batter in the pans and bake for 15 minutes, or until golden, make sure cake tester comes out clean.
Set the pans out to cool. Run the tip of a knife around the edges of the cakes to loosen them, then turn out of the pans.
Whipped Cream Frosting:
In a medium bowl, mix together the gelatin and 1/4 cup of the cream. Let stand for 5 minutes to soften, then place the bowl over barely simmering water until the gelatin has completely dissolved.
Remove the bowl from the heat and let cool to lukewarm.
In a mixing bowl, whip the cream until slightly thickened. Add the confectioners' sugar and vanilla and whip to the consistency of shaving cream.
Fold 1/2 cup of the whipped cream into the gelatin mixture, then fold in the rest.
Strawberries:
Wash and dry the strawberries, pick out 12.
Stem and slice the rest. Mix with 3 tablespoons sugar and refrigerate while juices develop, at least 30 minutes.
Spoon some of the strawberries with their juice onto each shortcake bottom.
Spread a 1/2-inch layer of whipped cream on top.
Place the second cake over the first. Frost the entire cake with the remaining whipped cream.
Top with the 12 whole berries.
Thanks for stopping by!
Lisa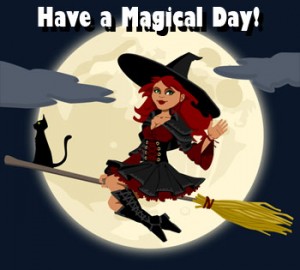 Tags: Recipes, Strawberry Shortcake