Lasagna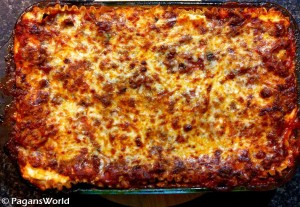 8 servings
Prep Time: 20 minutes
Cook Time: 1 hour 10 minutes
Stand Time: 10 minutes
Ingredients:
1 1/2 lb ground beef
2 eggs
1/2 cup minced onion
2 cloves garlic, crushed
1/2 cup water
1/2 tsp. salt
1/4 tsp. ground black pepper
1 teaspoon Italian seasoning
1 tablespoon brown sugar
1 1/2 teaspoons dried basil leaves
2 jars Tomato & Basil Sauce
2 (6 ounce) cans tomato paste
12 lasagna noodles, cooked and drained
2 containers (15 oz. ea.) ricotta cheese
1/2 cup grated Parmesan cheese, divided
8 ounces fresh mozzarella cheese, thinly sliced
Preparation:
Preheat oven to 375°.
In large bowl, combine ricotta cheese, 1/4 cup Parmesan cheese, eggs, salt and pepper; set aside.
Cook ground beef, onion, and garlic over medium heat until well browned. Stir in crushed tomatoes, tomato paste, tomato sauce, and water. Season with sugar, basil, Italian seasoning, 1 tablespoon salt, pepper, and 2 tablespoons parsley. Simmer, covered, for about 1 1/2 hours, stirring occasionally.
Spread 1 cup meat sauce in 13 x 9-inch baking dish. Layer 4 lasagna noodles, then 1 cup meat sauce and 1/2 of the ricotta mixture. Top with 1/3 of the mozzarella cheese; repeat. Top with remaining 4 noodles, then 1 cup meat sauce and remaining 1/4 cup Parmesan cheese.
Cover with aluminum foil and bake 1 hour. Remove foil and top with remaining mozzarella cheese. Bake an additional 10 minutes or until bubbling. Let stand 10 minutes before serving. Garnish, if desired, with fresh basil leaves. Serve with remaining sauce, heated.
Tip: Without meat; Do not preheat sauce beforehand, simply pour directly into bottom of baking pan.
Enjoy! Have a great weekend!
Lisa