Happy Friday everyone! Stay warm and Have a great weekend!
Hearty Beef & Veggie Stew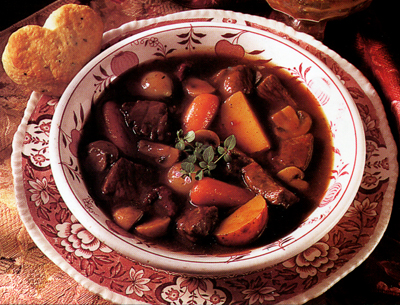 Ingredients:
1 1/2 pounds of boneless beef round
2 large cloves garlic
1 1/2 cups dry red wine
2 teaspoons of olive oil
6 small potatoes, unpeeled, scrubbed
8 ounces fresh mushrooms
8 sun-dried tomatoes
1 (14 ounce) can beef broth
1 cup baby carrots
1 cup pearl onions, peeled
2 tablespoons water
1 tablespoon cornstarch
Preparation:
Cut beef into 1-inch cubes. Cut garlic into thin slices. Combine beef, wine, oil and garlic in large glass bowl. Refrigerate, covered, at least 2 hours or overnight.
Cut potatoes into wedges; set aside. Cut mushrooms and sun-dried tomatoes in half, then in half again.
Place beef mixture, mushrooms  and sun-dried tomatoes in large nonstick skillet or Dutch oven. Add enough beef broth to just cover ingredients. Bring to a boil over high heat. Cover, reduce heat to low. Simmer 1 hour. Add potatoes, carrots and onions, cover and cook until vegetables are tender and juices run run clear when beef is pierced with a knife, about 20 to 25 minutes
Remove beef and vegetables from skillet with slotted spoon; cover and set aside. Stir water and cornstarch in small bowl until smooth. Pour cornstarch mixture into sauce in skillet. Increase heat to medium, cook and stir until sauce is slightly thickened. Return beef and vegetables to sauce; heat thoroughly.
Tags: Beef & Veggie Stew, Recipes