Happy Friday everyone! Instead of posting just news everyday, I've decided to throw something new into the mix. While I like hearing about all the craziness in the world, I need a break from it too. So here you have it…Friday's Food For Thought.
With the weather being so cold, I'm thinking a good Beef Stew is in order for the upcoming weekend.
Beef Stew with Parsnips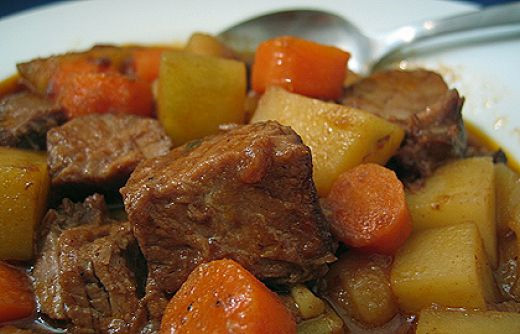 Ingredients
1 1/4 pounds stew beef, cubed
1 tablespoon olive oil
2 1/2 cup water
2 bay leaves
1/4 teaspoon onion powder
1/8 freshly ground black pepper and Kosher salt
2 small to medium parsnips
2 medium carrots
1 large potato
1 cup pearl onions (frozen are fineA)
2 beef bouillon cubes
1/4 tablespoon fresh rosemary, finely chopped
1 tablespoon tomato paste
1/8 teaspoon crushed red pepper
1 tablespoon flour
1/4 cup water
Preparation

Brown beef in oil in Dutch oven over medium-high heat, 5-7 minutes. Add water, bay leaves, onion powder, the black pepper and a pinch of kosher salt. Bring to a boil, then reduce heat and simmer gently, tightly covered, for 2 1/2 hours.
Trim and peel parsnips and carrots, then cut into 1/4 inch rounds. Peel and cube potato. Add to stew along with onions, bouillon cubes, rosemary, tomato paste and red pepper. Bring to a boil, then simmer gently, tightly covered, for 30 minutes, or until vegetables are tender.
Mix flour with water and stir into stew until slightly thickened. Taste and adjust seasoning as needed. Let stand for 5 minutes and serve.
Nutrition information
(1/4 recipe): 396 calories, 125 calories from fat, 14 grams fat, 4 grams saturated fat, 88 milligrams cholesterol, 1,026 milligrams sodium, 37 grams carbohydrates, 6 grams fiber.
Have fun & have a great weekend!
Tags: Beef Stew with Parsnips, Recipes