How to make a corn doll for your altar, this is the doll I made for Lughnasadh.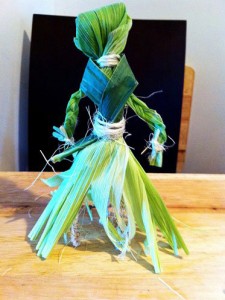 Next time you're having corn for dinner, keep your husks. Be sure to dry them in the sun for one to three days. If you're using dried-out husks, soak them for a couple of hours to soften. (There is no special preparation if using fresh husks).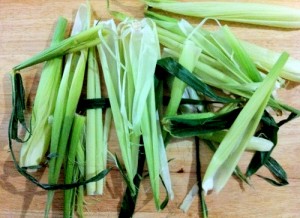 Materials:
Corn husks (Available in grocery store)
Scissors
Pipe cleaners
Twine or string
Cotton Balls
Instructions: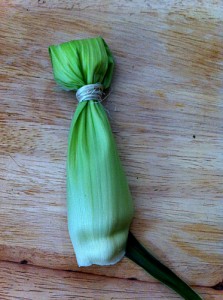 Fold a husk in half, place two or three cotton balls in the middle. Twist the husk, tying it with string to make a head. There should be a bit of husk in the front and back, below the head, to create a torso.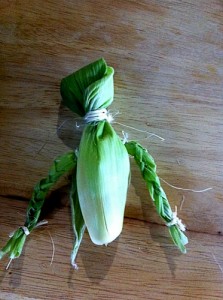 Make a pair of arms for your doll. There are a couple of ways to do this. I decided to cut and husk in 3 pieces and braid, tying the ends to make hands. Slip the arms between the husks that form the torso, then add a cotton ball to plump the torso (insert a few pipe cleaners into torso to keep standing) tie off at the waist.
Arrange a few husks around the doll's waist, (overlapping them) then tie in place with twine. After you've tied the waist, trim the hem of the skirt so it's even. You can add a shawl (see 1st pic) and let the doll dry completely.
Once your doll has dried, you can leave her plain or give her a face and some hair. (use hair form husks or yarn)
Be creative and have fun with it! You can add clothing, an apron, bead-work, etc!
I hope this was helpful, feel free to email me with any questions.
Lisa