Sandalwood Oil
In India, Tibet and China, Sandalwood is used to protect religious carvings in temples. The best quality and most expensive comes from India. These trees are are endangered and protected by the government in one province. The oils from Australia and West India are less effective. True Sandalwood oil is complicated to make and becoming rare. The tree should be 40 years old before the oil can be extracted, and it requires up to 55 pounds of wood chips for 1 quart of oil, then distilled for six months.
Therapeutic Effect:
Sandalwood oil is excellent for treating respiratory and minor urinary tract infections. It also counteracts restlessness, anxiety and depression, and is believed to heighten eroticism. 
The essential oil, has a sweet, balsamic aroma that also repels insects.
In a diffuser, combine sandalwood oil with rose oil for a calming effect:
5 drops sandalwood

3 drops rose absolute
For skin irritations:

The oil helps heal cuts, rashes and eczema.
As a massage oil, mix 2 teaspoons of jojoba oil with 5 drops of sandalwood oil.
To release sexual energy:

In a diffuser combine:
2 teaspoons of jojoba oil

2 drops of sandalwood

2 drops of jasmine absolute

2 drops of rosemary oil.
To comfort the the grief stricken:

As a massage oil.
5 drops of sandalwood oil

3 drops of rose-otto oil

2 teaspoons of jojoba oil
In a relaxing and uplifting bath:
Add 3 drops of the oil to your bathwater.

Relax in the warm water for at least 30 minutes.
To keep tissues elastic:
A massage with sandalwood oil mixed into sweet almond oil can help keep the tissues elastic and prevent stretch marks.

Be sure to check with a health care practitioner before using during pregnancy.
External application
For bronchitis: Add 3 drops of sandalwood oil to 1 gal. of hot water, place a towel over your head and inhale the vapor deeply through your nose and mouth.
For bladder inflammation: Mix 8 drops of Sandalwood oil with 4tbsp. of sweet cream, add to a bathtub half filled with water. Stay in sitz bath for 15 minutes. Be sure to rest for 30 minutes after.
For a hair dressing: Mix 2 drops of sandalwood oil with 2 tsp. of sweet almond or jojoba oil, you can also add both jasmine and rosemary oils.
Warning:
Most essential oils are made up of alcohols, esters, ketones, hydrocarbons, phenols and acids. Sandalwood oil can be toxic if taken internally and in high doses. It can also cause inflammation of the skin and damage to kidney tissue.
The Complete Guide To Natural Healing
Note: Consult with a Physician or certified herbologist if you are seeking medical remedies. The information is not intended as medical advice. PagansWorld.org is not liable for the misuse of the oil listed above.
Thanks for Stopping by!
Lisa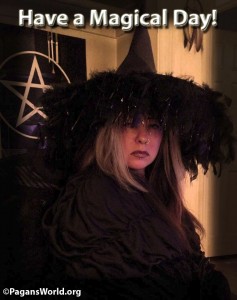 Tags: Aromatherapy, essential oils, Herbs, Sandalwood