CALAMUS
Botanical Name: Acorus Calamus

Folk Names: Gladden, Myrtle Flag, Myrtle Grass, Myrtle Sedge, Lubigan, Sweet Cane, Sweet Flag, Sweet Grass, Sweet Root, Sweet Rush, Sweet Sedge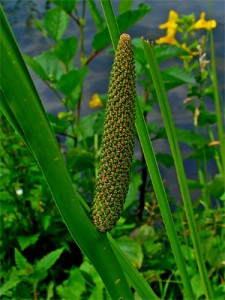 Calamus are perennial flowering plants from the Acorus family. Native to to North America and northern and eastern Asia. The leaves grow between 0.7 and 1.7 cm wide, with average of 1 cm, and the flower is between 3 and 4 mm.
The Penobscot people would cut the root and hang it throughout the house to cure illness. When traveling, they would take a piece of the root, and chew to ward off sickness. To cure a runny nose, The Potawatomi people would powder the dried root and put up their nose. The Teton-Dakota warriors believed it prevented excitement and fear when facing their enemy, they would chew it to a paste and rub it on their face.
Diety: Maiandros
Element: Water (Fidelity, Friendships, Healing, Love, Meditation, Prophetic Dreams, Purification, Sleep).
Gender: Feminine.
Planet: Moon (Fertility, Healing, Peace, Prophetic Dreams, Sleep).
Powers: Healing, Luck, Money, Protection.
Medicinal Uses: The root is anodyne, aphrodisiac, aromatic, carminative, diaphoretic, emmenagogue, expectorant, febrifuge, hallucinogenic, hypotensive, sedative, stimulant, stomachic, vermifuge and mildly tonic. Internal uses: It Stimulates the apatite and can reduce stomach acidity in small doses. In larger doses it increases stomach secretions. (known to treat anorexia) Also known to treat bronchitis, digestive complaints,  sinusitis etc. If infused it can bring about abortion. Chewing the root  can alleviate toothache and kill the taste of tobacco. External Use: It is also used to treat neuralgi, rheumatic pain and skin eruption. It is a folk remedy for arthritis, cancer, convulsions, diarrhea, ddyspepsiayspepsia, epilepsy.
Magical Uses: Grow Calamus for good luck. Use powdered in Incense and sachets for healing. String seeds as beads for healing as well.  Used to strengthen and bind spells. Keep pieces of the root in all four corners of the kitchen in protection against poverty and hunger.
Ritual Uses: The Incense is burned to treat headaches, coughs, and colds.
Other Uses: Phenylpropanoid, produced by plants are used for defense against herbivores and protection against ultra-violet rays.
Health Hazards: Calamus is considered unsafe for human consumption by the FDA due to massive doses given to lab rats over extended time has proved to be carcinogenic.
FDA studies have shown that only Calamus native to India contains the carcinogen Beta-asarone. The North American variety contains only Asarone.
References:
Scott Cunningham: Cunningham's Encyclopedia of magical herbs
Note: Consult with a Physician or certified herbologist if you are seeking medical remedies. The information is not intended as medical advice. PagansWorld.org is not liable for the misuse of the herb listed above.
Thanks for stopping by! Well wishes to you all and have a great day!
Lisa